April 13, 2014 -- It stopped raining by our 5:30 am wake up call and tea, although it was still quite foggy. The morning tea they gave us turned out to be more like soup: celery and carrots... with lots of sugar! The fog was because we were high up in the mountains.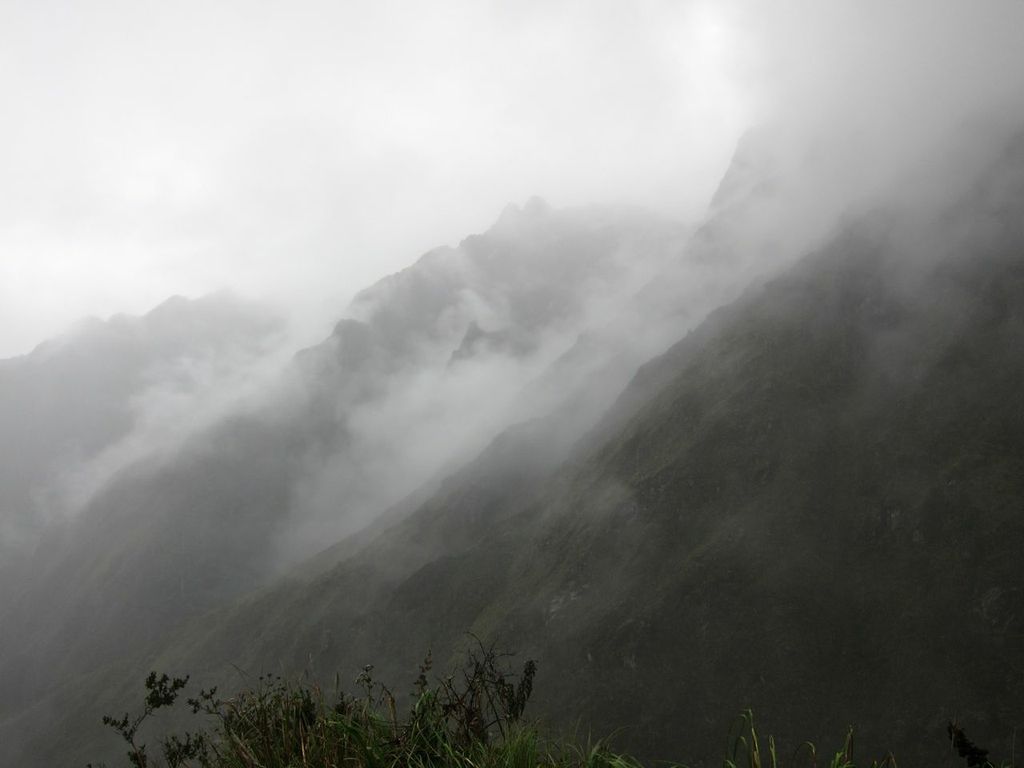 First things first: Breakfast! Plantains, scrambled eggs, hot dog, and spam-like meat. There was also bread and hot chocolate. A few of us tried dipping the bread in the hot chocolate, and it was pretty good!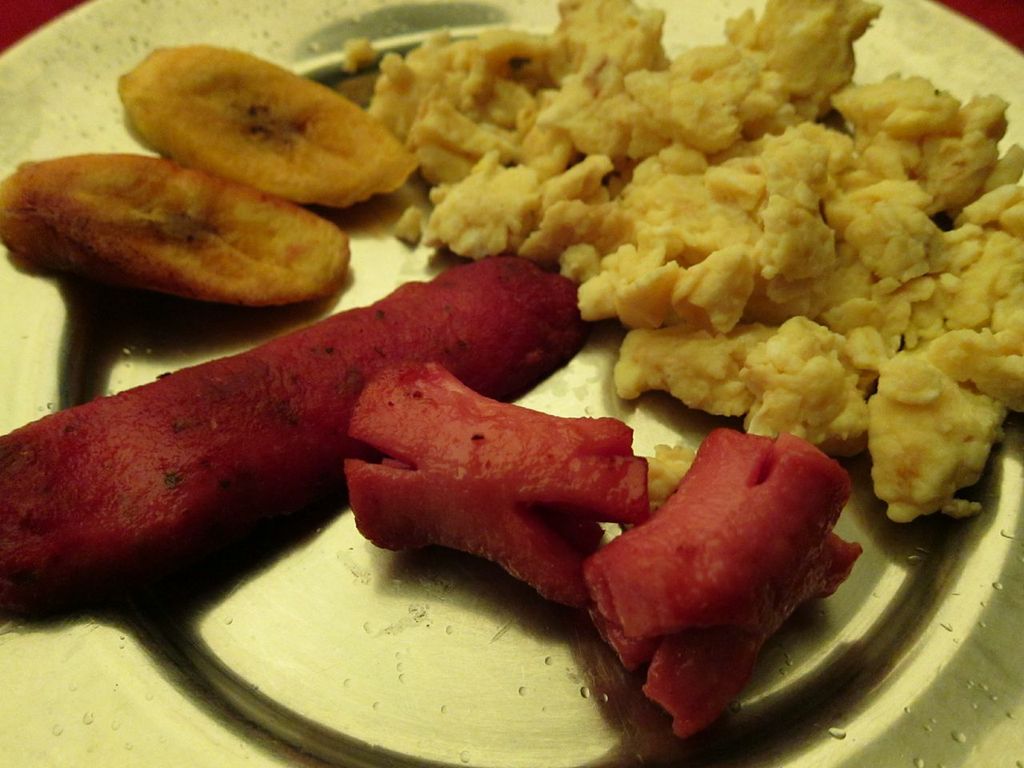 While C really liked breakfast, K was a little disappointed because she really liked the previous day's. K could not finish her tea and ended up using the warm tea to wash her sticky hands.
We discovered that K's hiking pole had broken. These were adjustable height poles, and one of the ends had gotten loose so the pole was collapsed and stuck at a short height. Unfortunately, of all days, this was the downhill day, which is when hiking sticks are most needed.
We started off at 7:20 am in slight rain. Everyone had ponchos except the two of us. We left passport control and we started a 20 minute straight uphill steps. By the time we got to a view point, we were all quite out of breath. Along the way, we passed meadows and natural reservoirs (like ponds). It was one hour to the circular ruins, Runkuracay, another lookout. Part way there, a member of our group got sick and one of our guides accompanied her until she was able to catch up with the rest of the group at Runkuracay. It was raining, so the history lesson did not last for long.
We then began the next part of the trek on original Incan stone paving, through the second pass, to Sayacmarca. There were many vista points along the way, but we really couldn't see anything as the cloud cover was very thick, so we just moved on.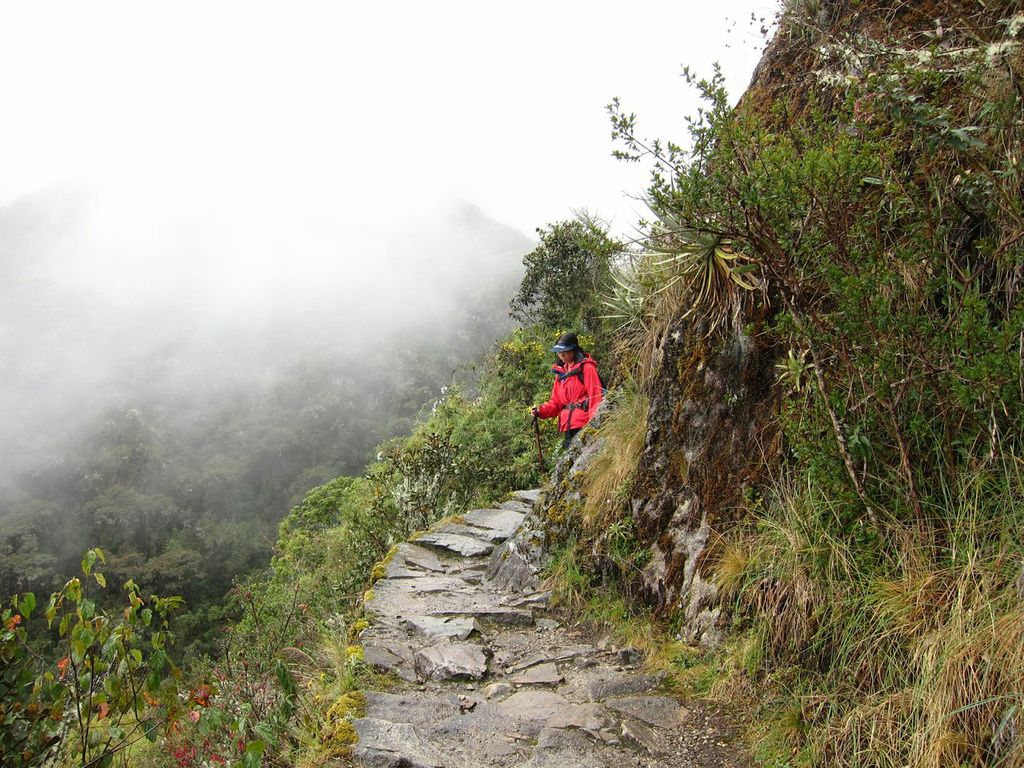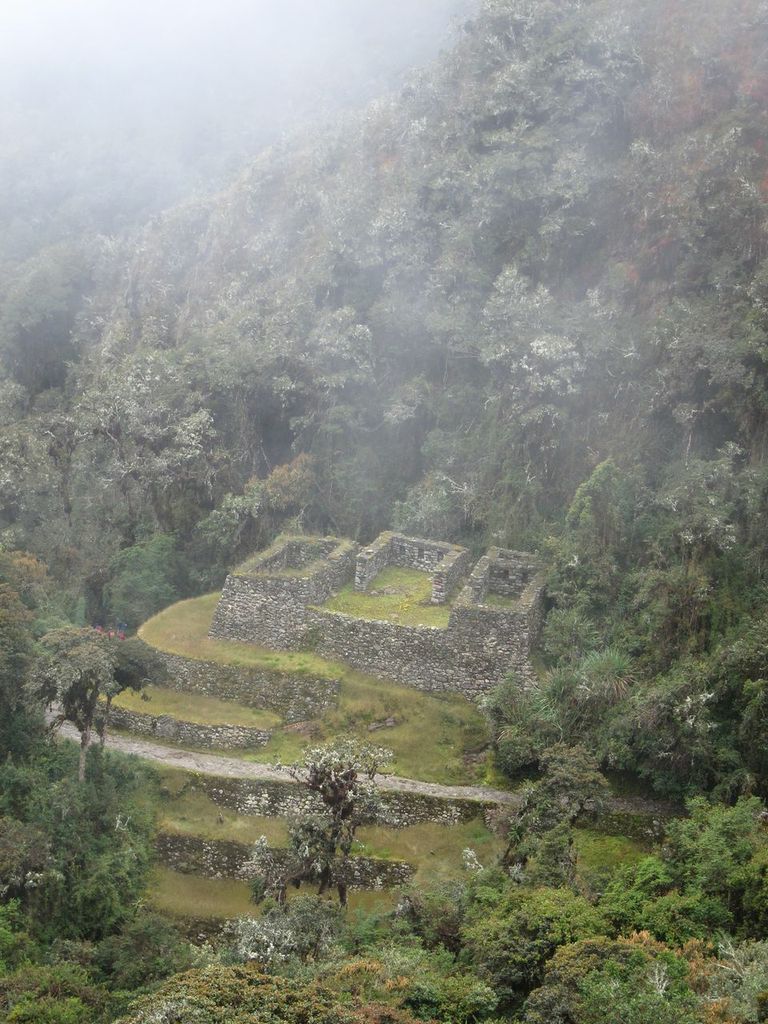 K managed to fall down twice on the slippery uneven steps (trekking pole too short to be of any use), which felt embarrassing. Fortunately, everyone else was ahead and just our guide, Carlos, was at the back. He gave us good tips on how to tread carefully.
When we got to Sayacmarca, Janet lent K one of her very nice hiking poles (a Black Diamond with padded wrist straps) to climb the very steep staircase to Sayacmarca, whose name means Inaccessible Town. Carlos let us explore for a bit before giving us a tour.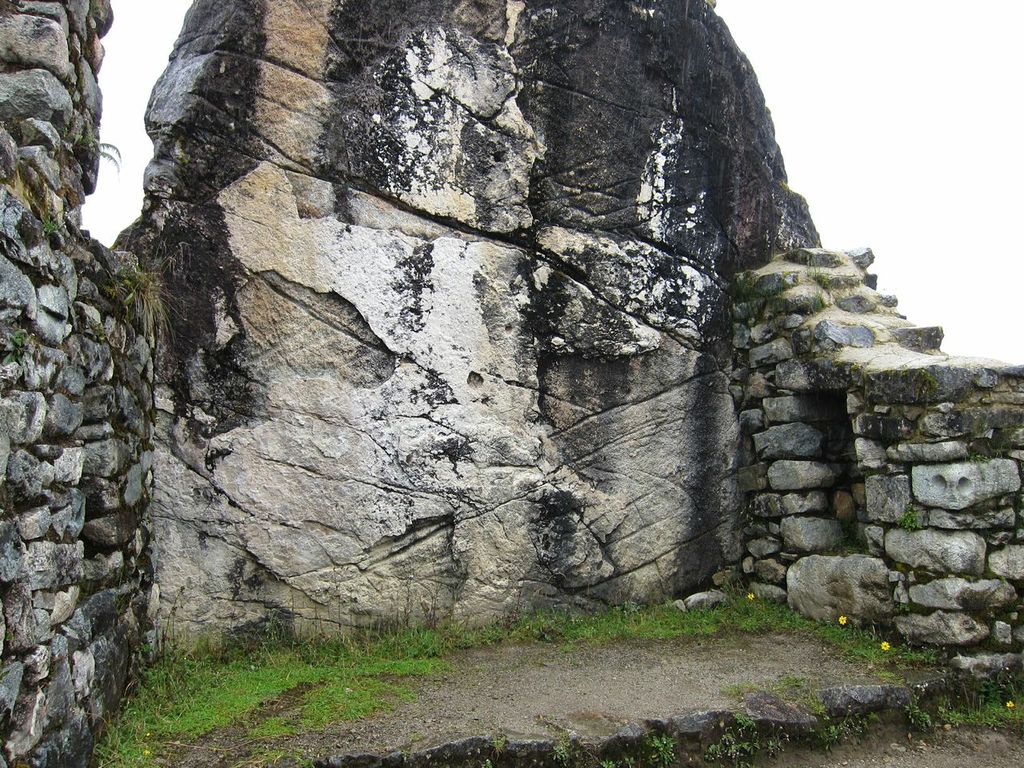 We found a flower that we thought was an orchid, but it wasn't. Plants quickly take over the ruins and are one of the bigger threats to the ruins since they can get between the rocks with their roots.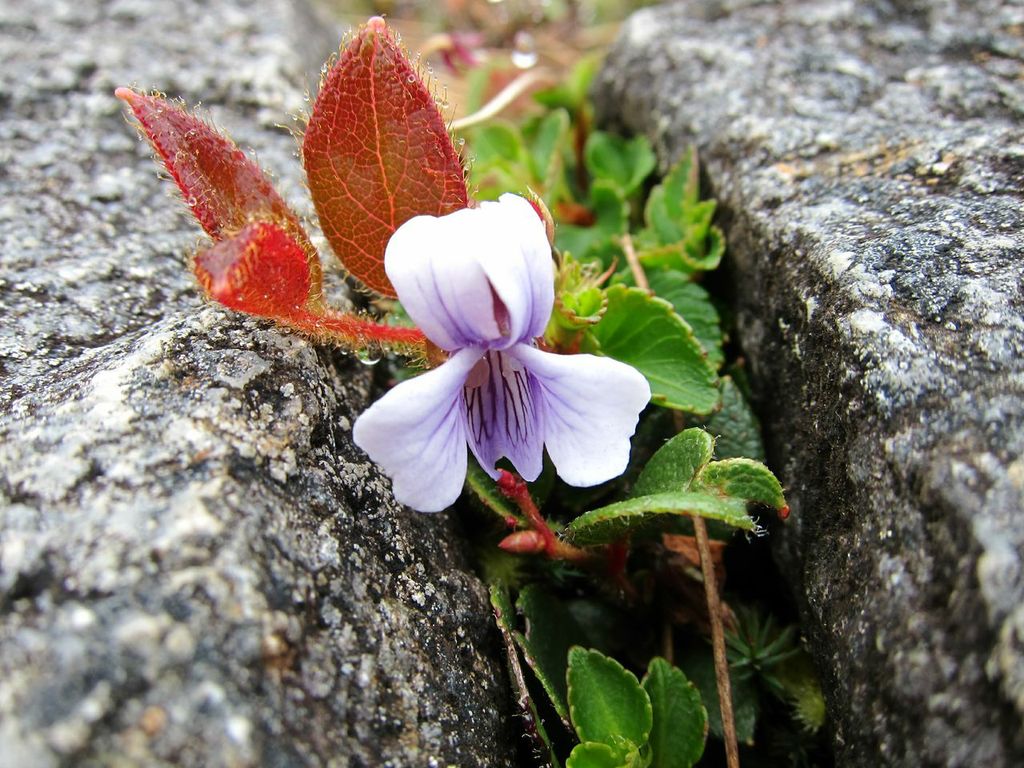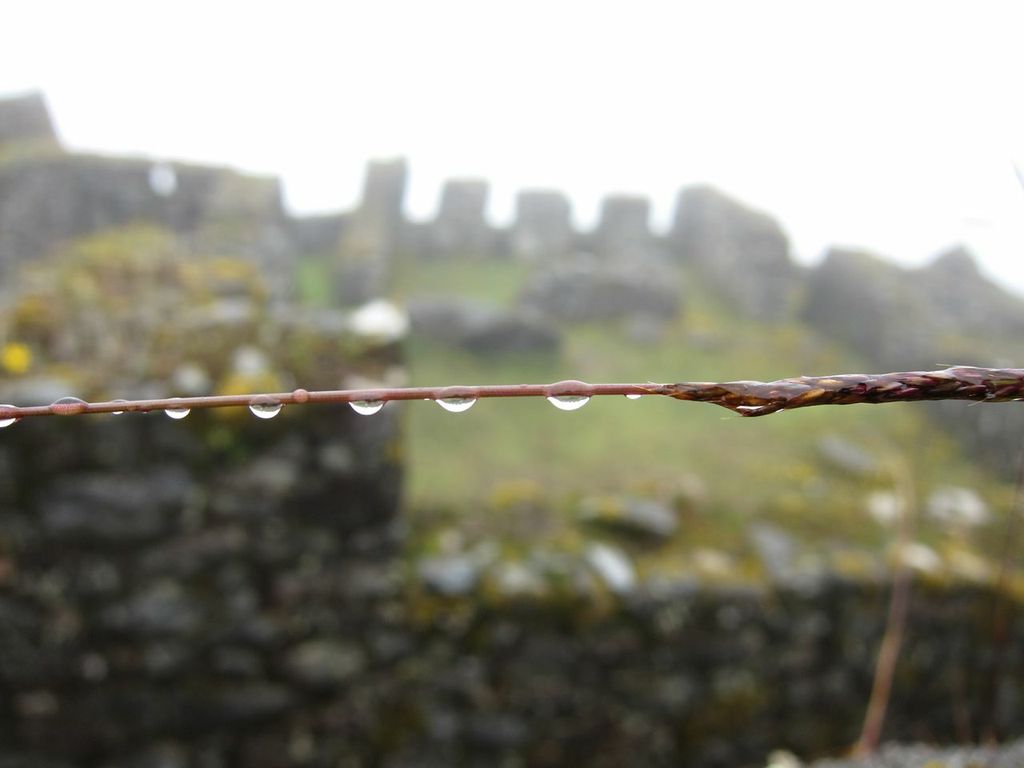 After that, it was a relatively short hike (about 25 minutes) to our lunch spot for a very early lunch at 11:20 am.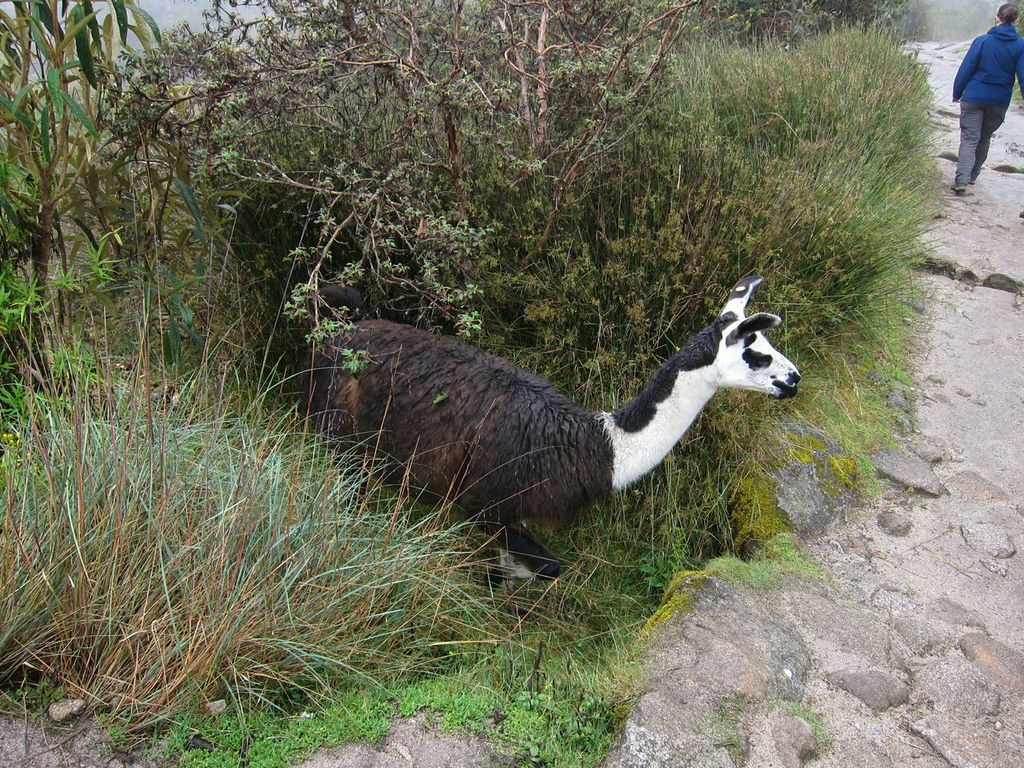 Lunch: Pizza - with olives, meat, and lots of cheese, Fava beans and broccoli (CL got multiple servings), Pork chop with beans, and rice. And our usual post-meal tea.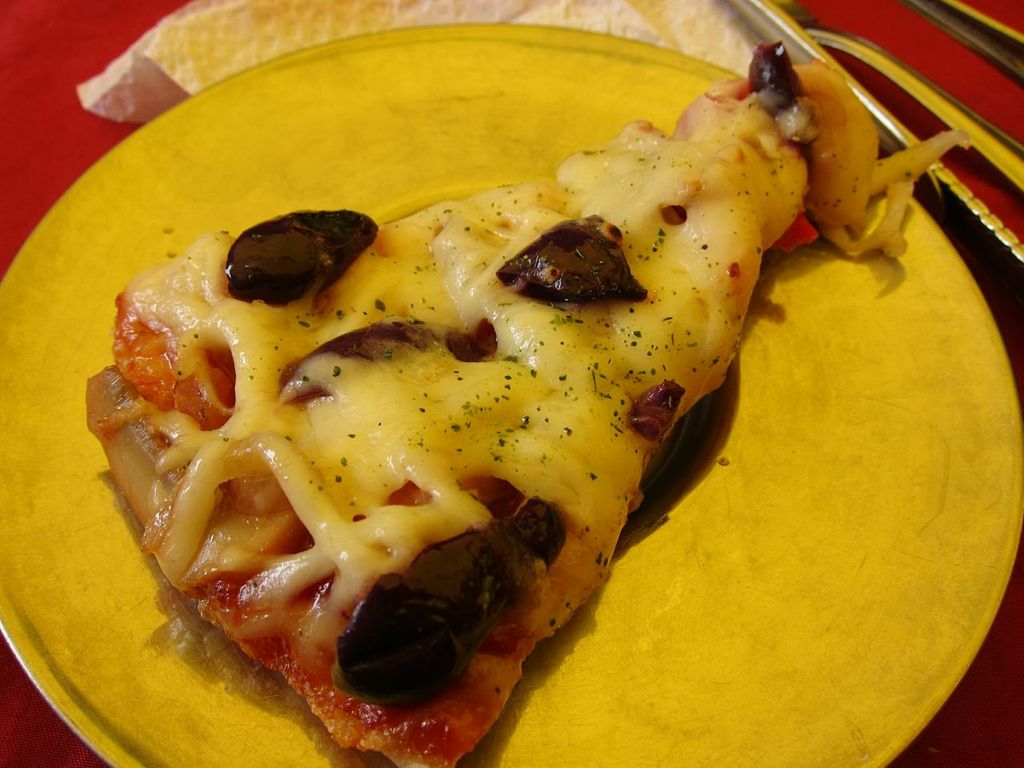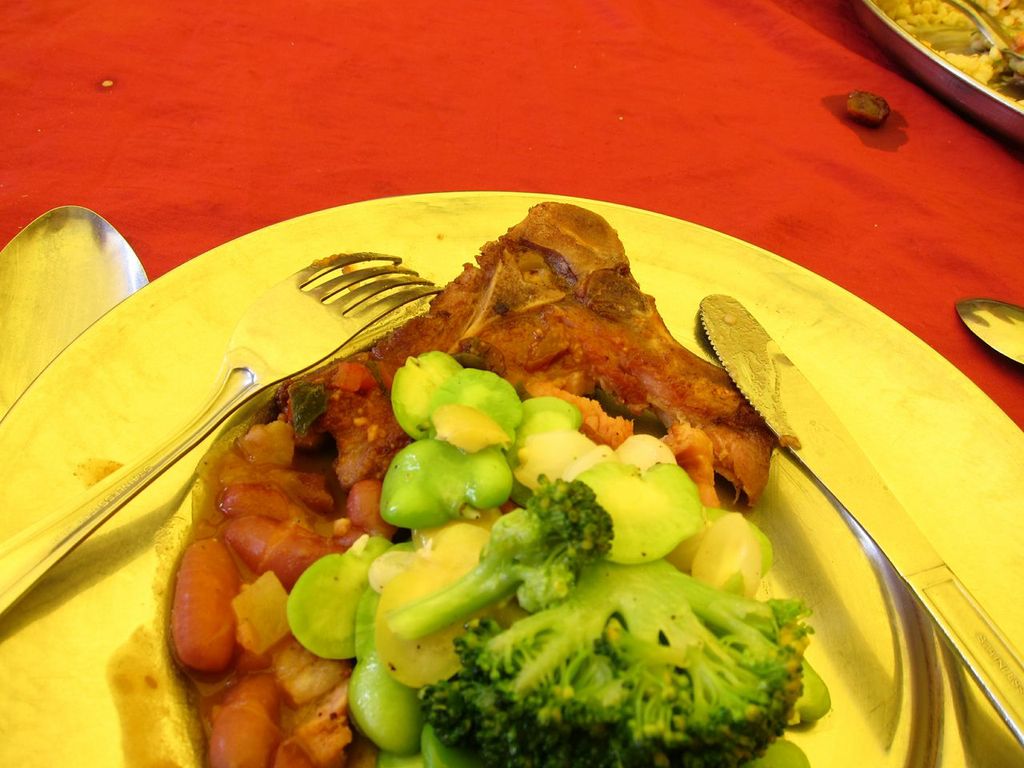 Even though we could have filled up with boiled water at lunch, we still had almost a liter remaining so we decided to wait until later, to keep the load light. Although there was enough time to stay longer at lunch, the group was eager to start again in order to make sure we finished the day's trek before sunset. CL fixed K's pole after lunch with a piece of (used, but not that gross) piece of Cottonelle wipe. It worked nicely by providing extra resistance in the twist part of the pole. The next 1.5 hours of the trek was easy. It was a change of only 100 meters in elevation, although the stones were sometimes slippery and uneven.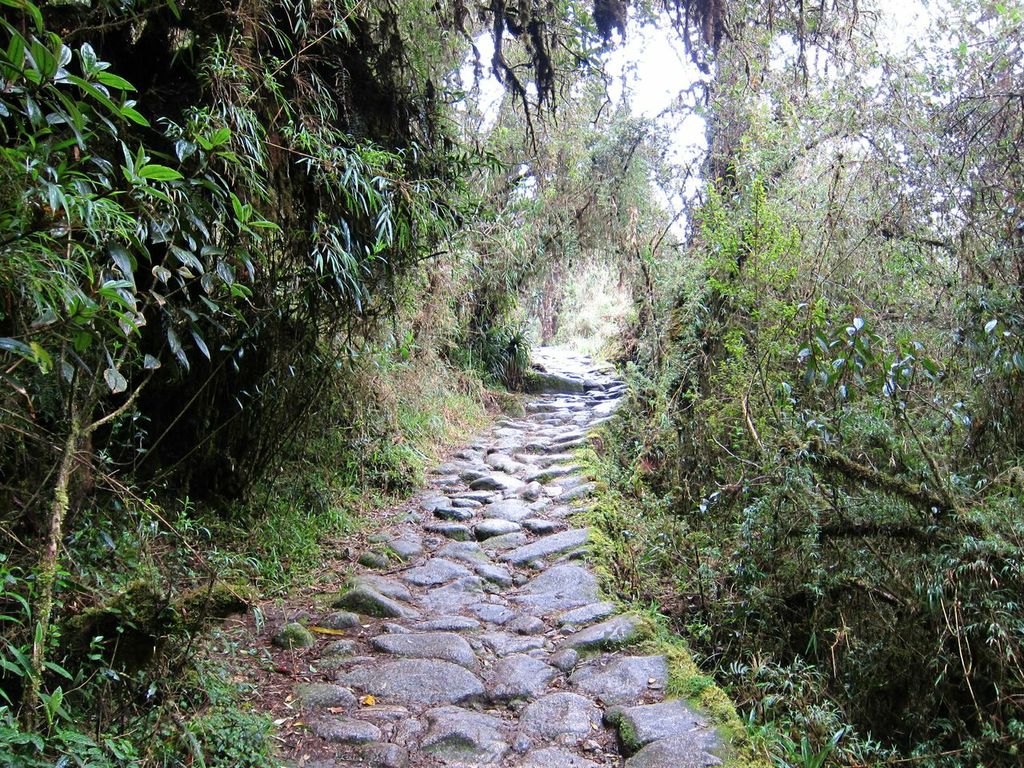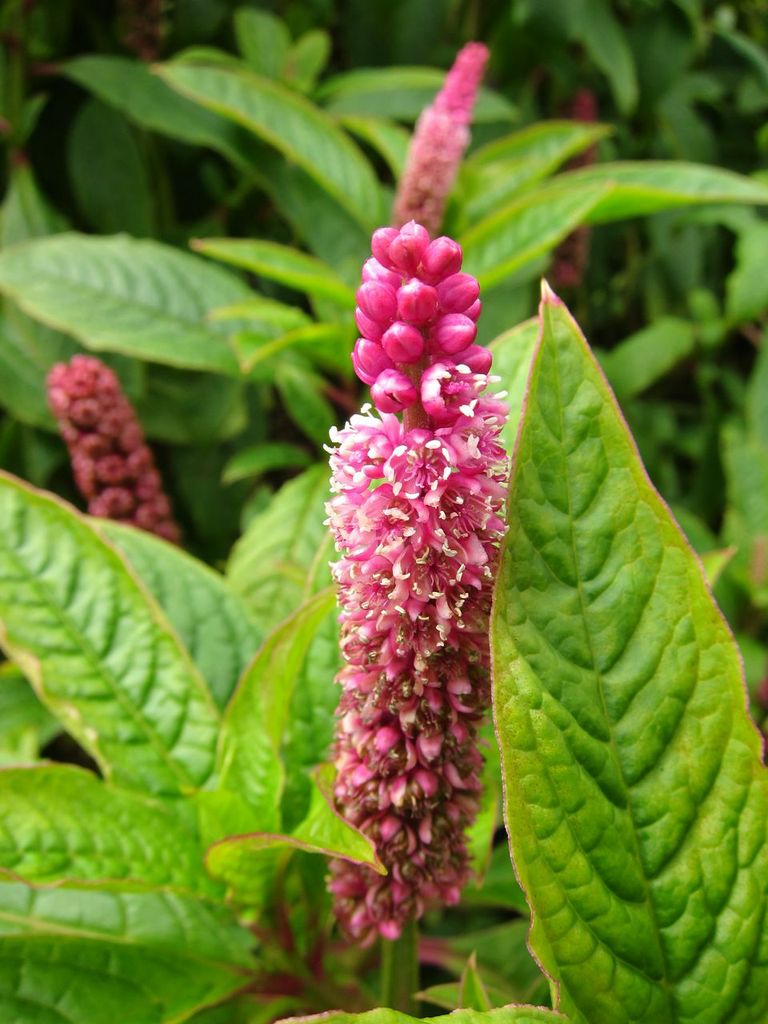 We passed through an interesting Incan tunnel, just about when the rain started up again, so the walls were wet inside. The tunnel was just a way to get through a large boulder that was in the way, but it was incredible the tunnel was still there after all this time. Because it was raining, and we were wearing long sleeved jackets, CL was hot, wet, and as a result, quite grumpy. We stopped to take photos of flowers and Janet walked with us for a large part of the remaining trek to the top of the third pass.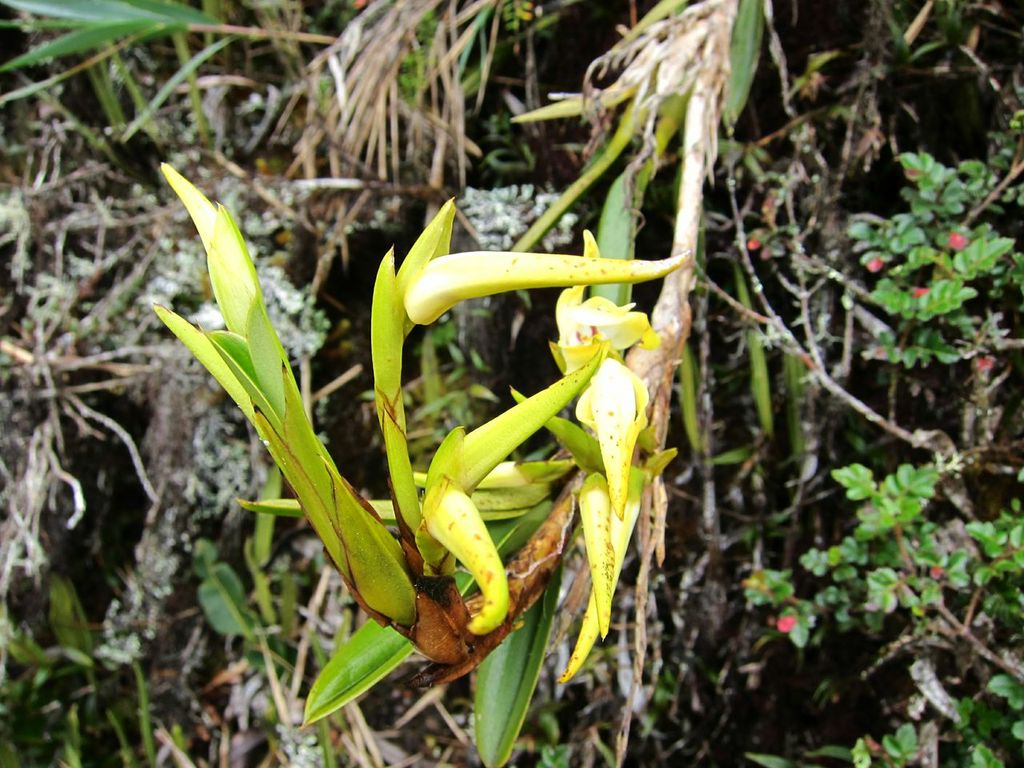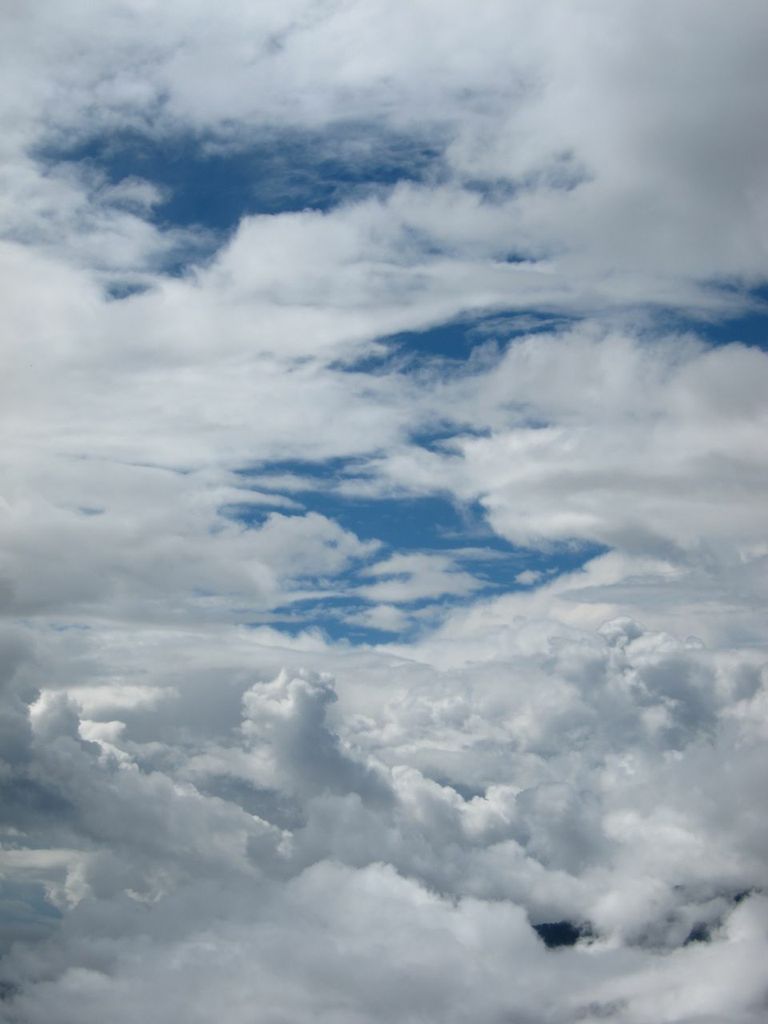 We were lucky when we go to the top (the third pass), the rain had subsided. The blue sky came out, and we could take photos. The earlier members of our group just got clouds so they continued towards the camp site.
Up until this point, because we were so well fed at meal times, we had not eaten any of our snacks that we had brought for the trail. K decided that she was going to have a peanut butter cracker sandwich with this nice view so that carrying the snacks would not have been a waste.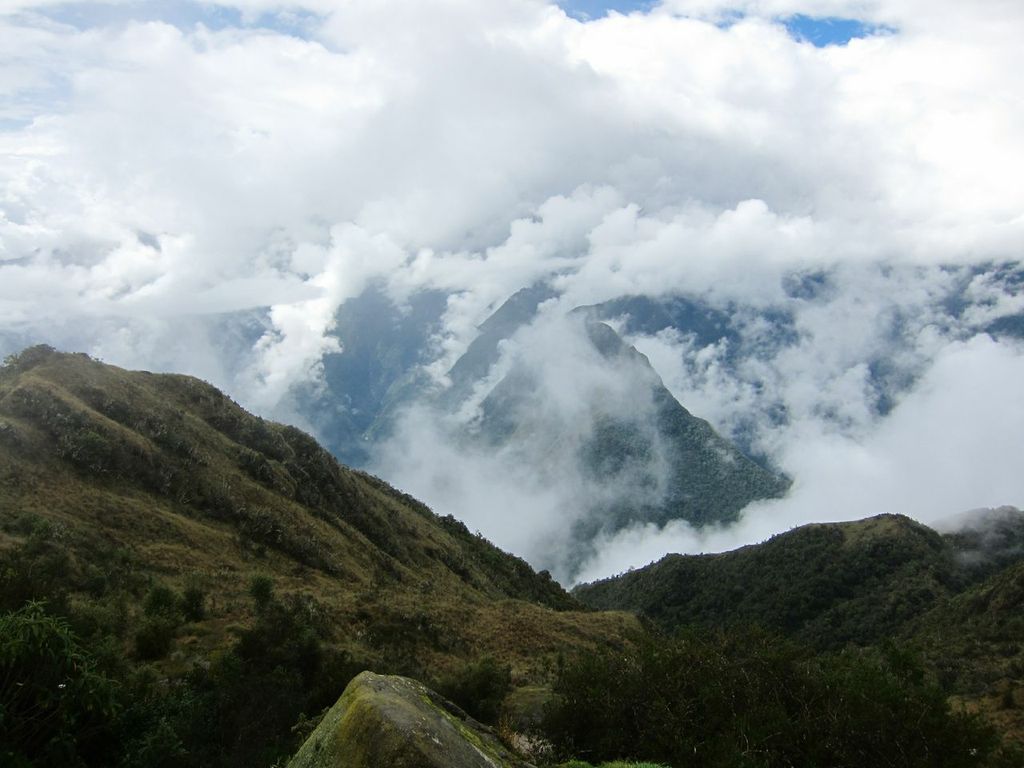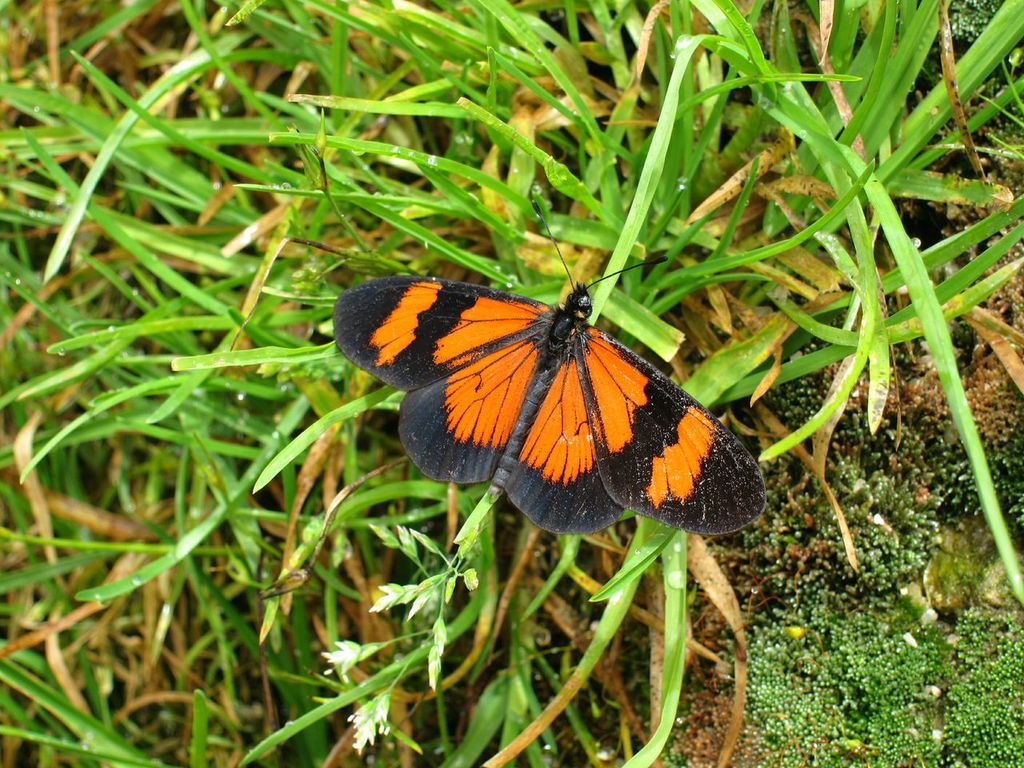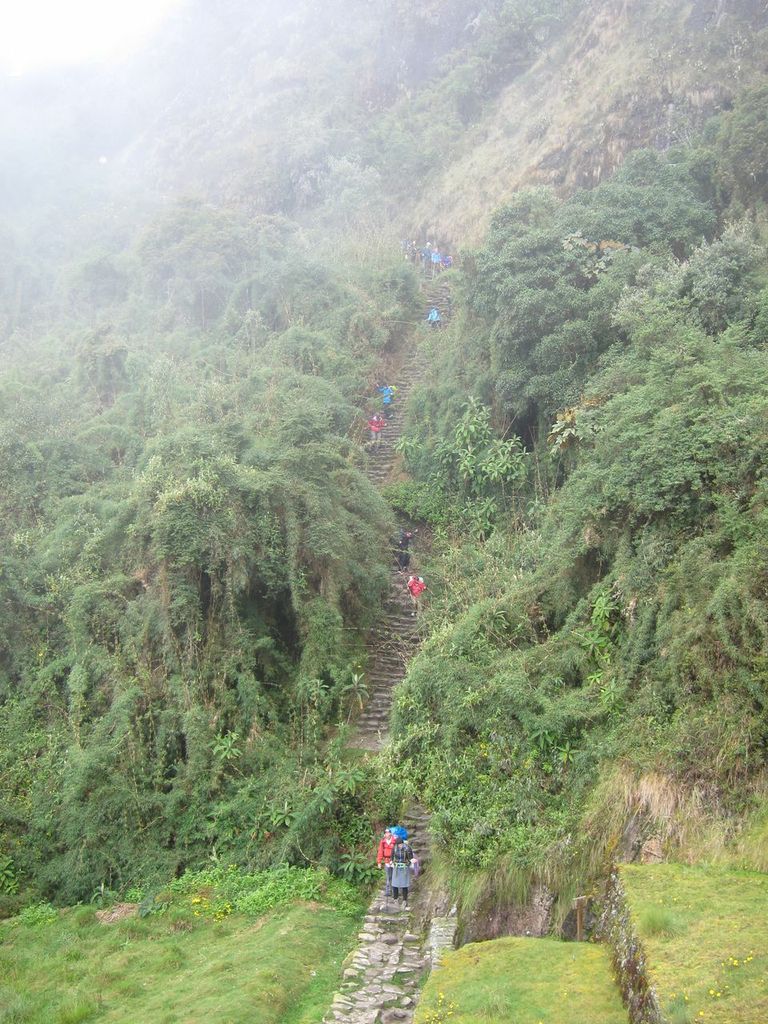 On the way down the very steep steps (jokingly called the Gringo Killer), we visited Phuyutamarca, "the city in the clouds."
In some ways, it was difficult, but in other ways, it wasn't that bad. K had originally thought the entire third day was going to be like those stairs, but it was only for a few parts here and there.
At Phuyutamarca, Janet said she would wait for us at the other side. It felt like when parents take their kids to the park to let them play, and tell them the kids to meet on the other side or after a few minutes.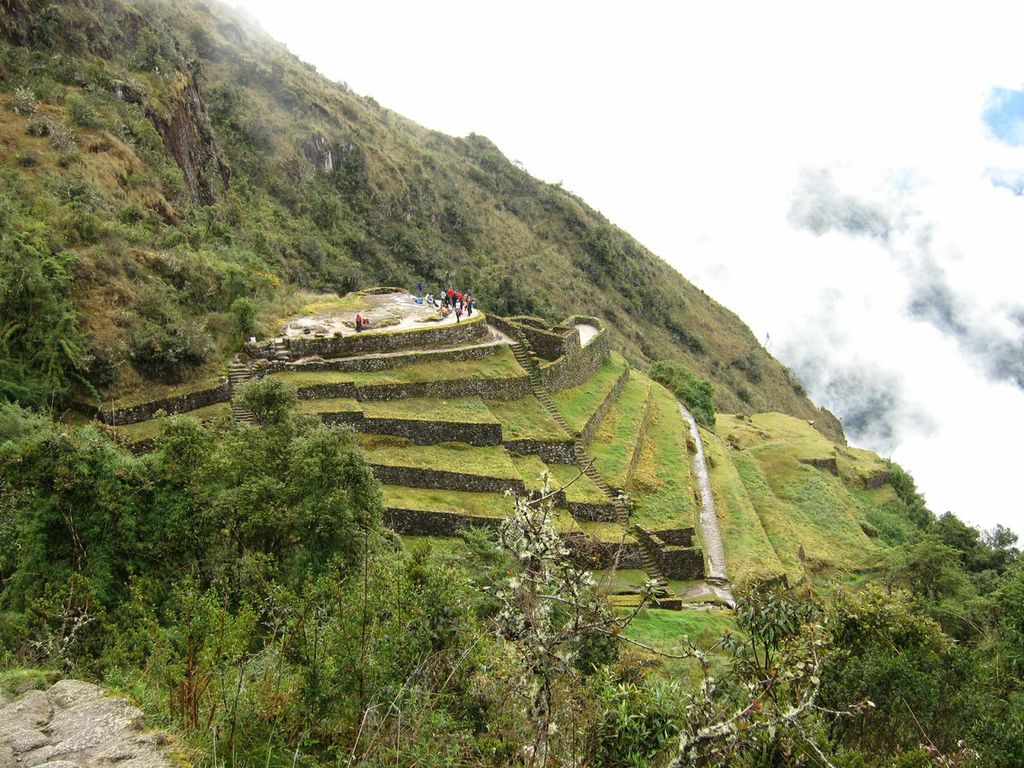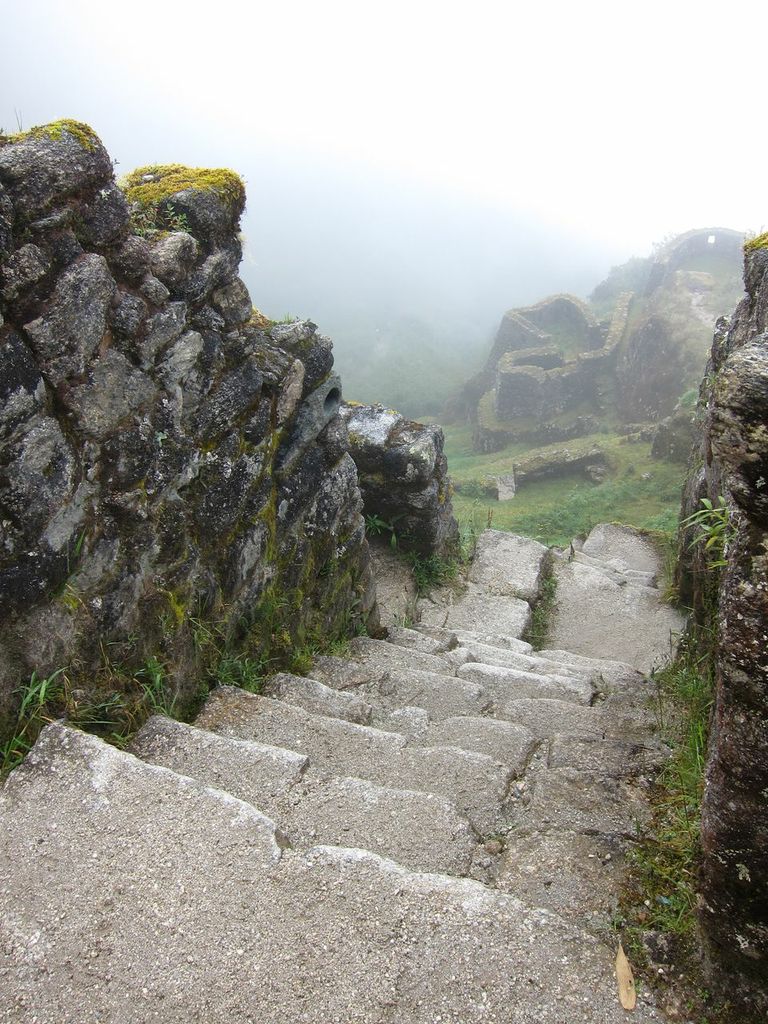 However, when we saw those stairs on the other side, we thought they were way too steep and found another way to exit. Most people do actually exit this way though.
Janet and Carlos had told us about a fork in the road two hours into the descent. The long way would take us to the terraces and the shorter way would take us straight to the camp. In order to make it to the camp before sunset, we would have to reach the fork by 5 pm. Leaving the terraces, it was already 2:45 pm, so we had to hurry.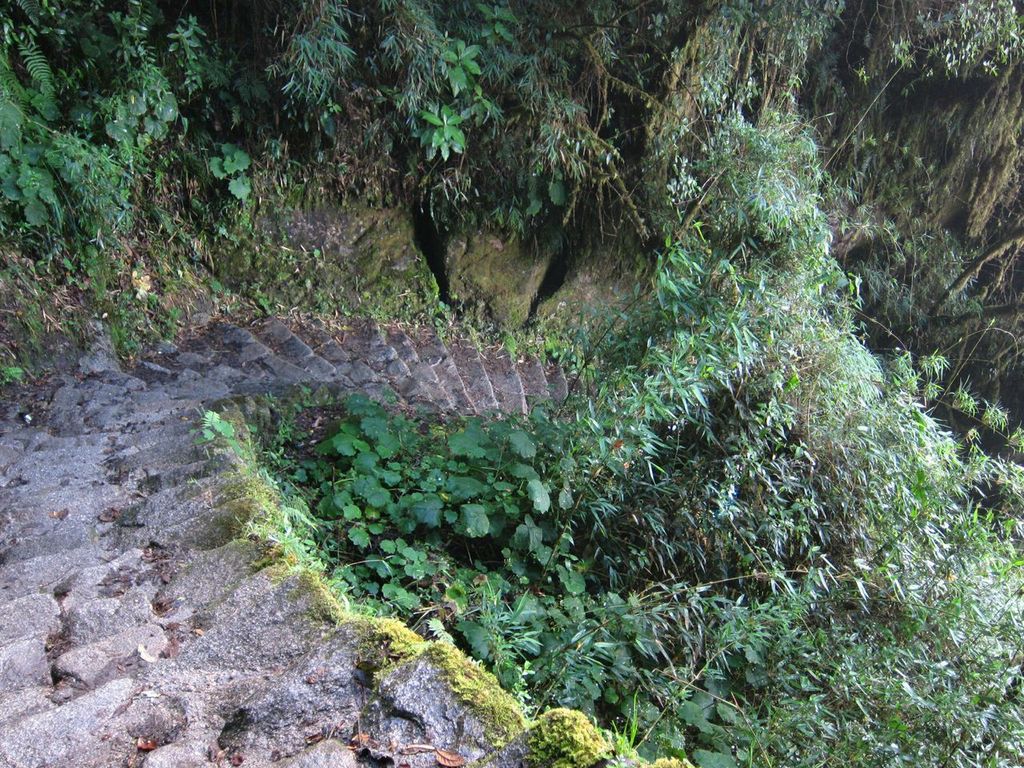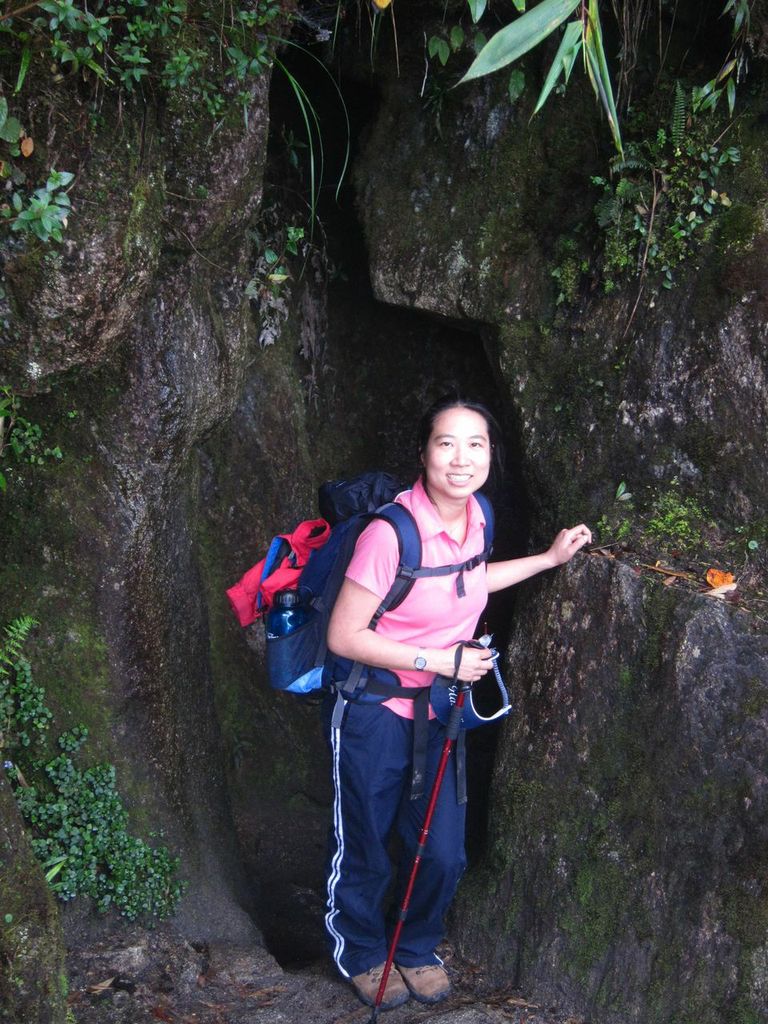 We passed by another Inca Tunnel, except this one was much more difficult to navigate because it had steep, slippery stairs inside the tunnel! Just before going through the tunnel, we met an American couple from Michigan, who were about our parents' age, L & G. We later found out they were part of the other group from Peru Treks, the company that organized our hike. We got a warning about the step down into the tunnel as L shouted "The first step's a doozy!" when it was his turn to navigate the tunnel.
Around 4:20, we started to get really impatient that we had not seen the fork yet, so we started walking more quickly. It also helped that the path had leveled out so we could step more confidently. In our rush though, K's backpack split open because we had left the zippers at the top of the backpack. All the bouncing eventually caused it to split. It was bad timing because we had just passed all these people and while we were fixing the backpack, they all went by us, so we had to pass them a second time. There were many view points of the Urubamba river and the mountains as we got lower in elevation.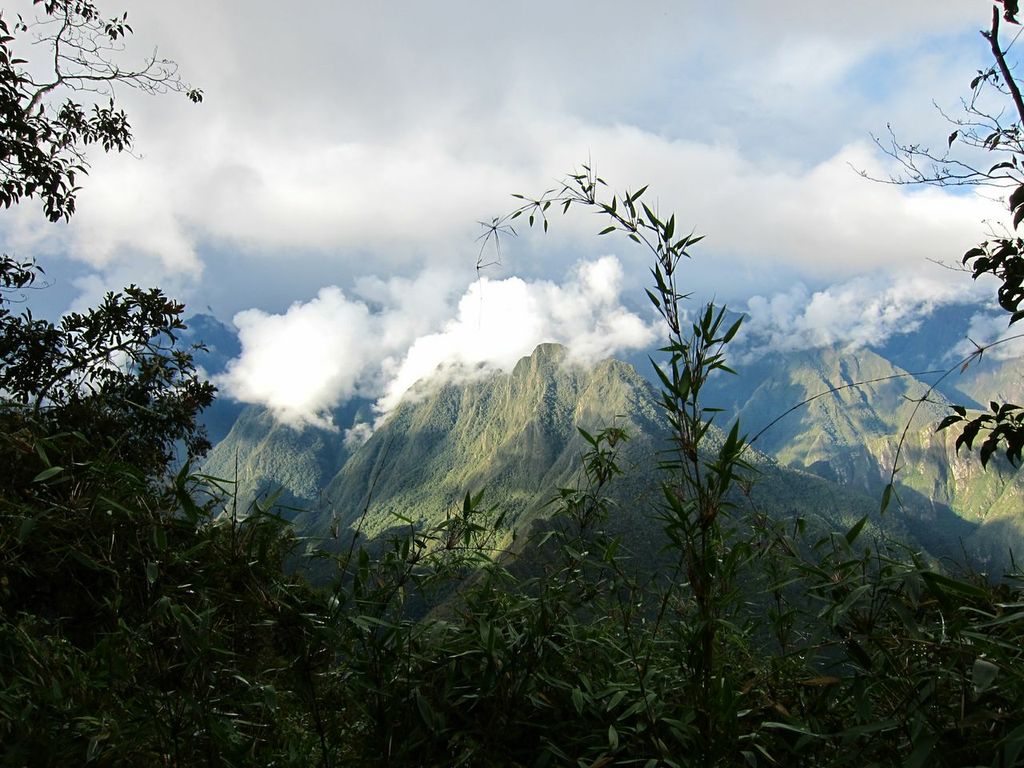 Finally we reached the fork, at around 4:48 pm. We trotted very quickly towards the terraces (Wiñay Wayna, meaning Forever Young). Along the way, we caught up with the Michigan couple again, and overheard L saying that he was not ever going to do this hike again, and that is why he was taking this detour to see the terraces -- to not leave anything on the table. We found out that they were doing this trek because their daughter had done it and recommended it to them. And they found out we were everything stereotype about the California Bay Area (Silicon Valley, Tech, and Stanford). It felt weird to be so predictable.
When we came out of the trees, the terraces and the view were breathtaking. Thus far, it was the biggest structure we had seen, and it overlooked the river, with the mountains in the back. Photos don't quite capture it all, but here's an attempt.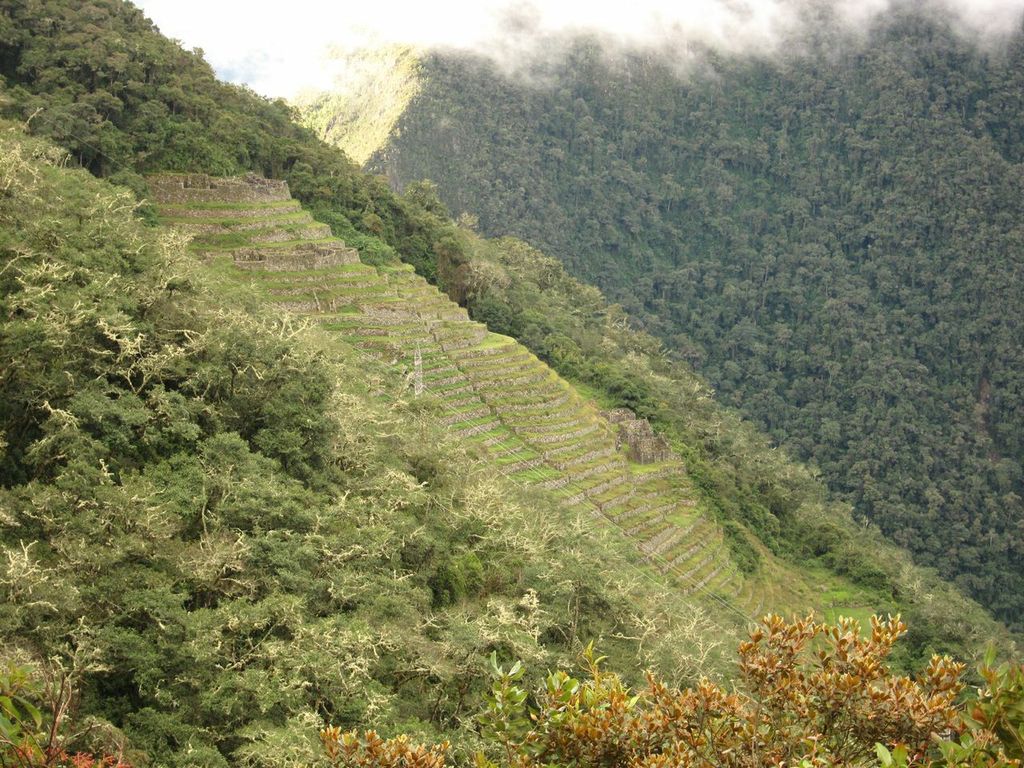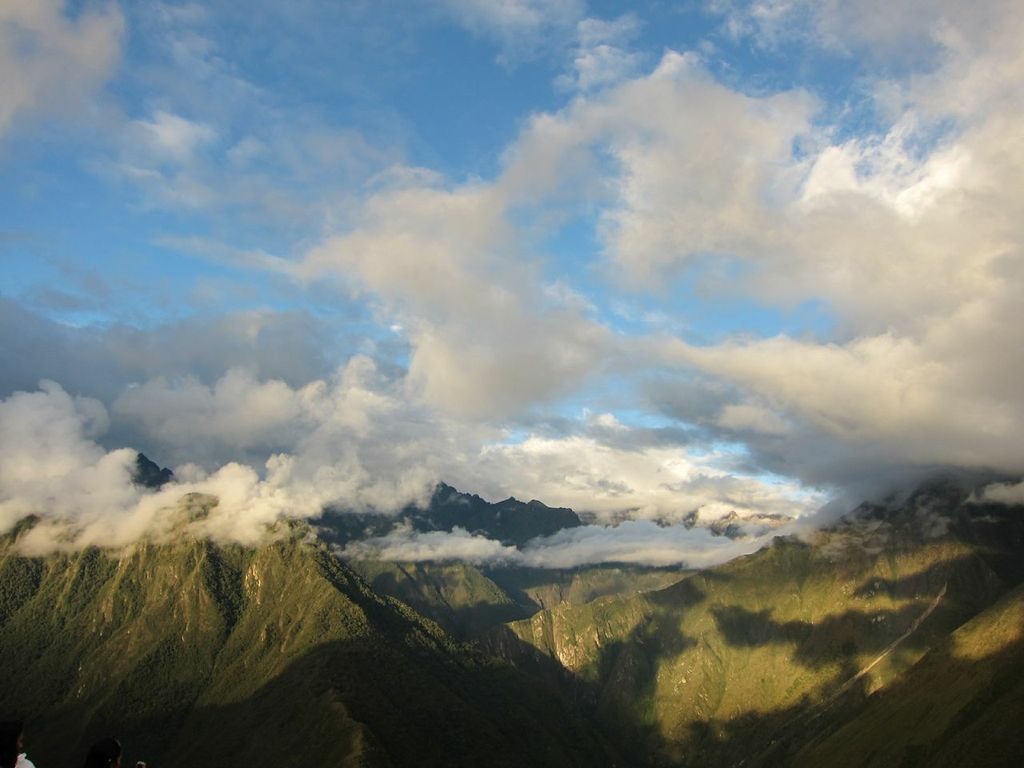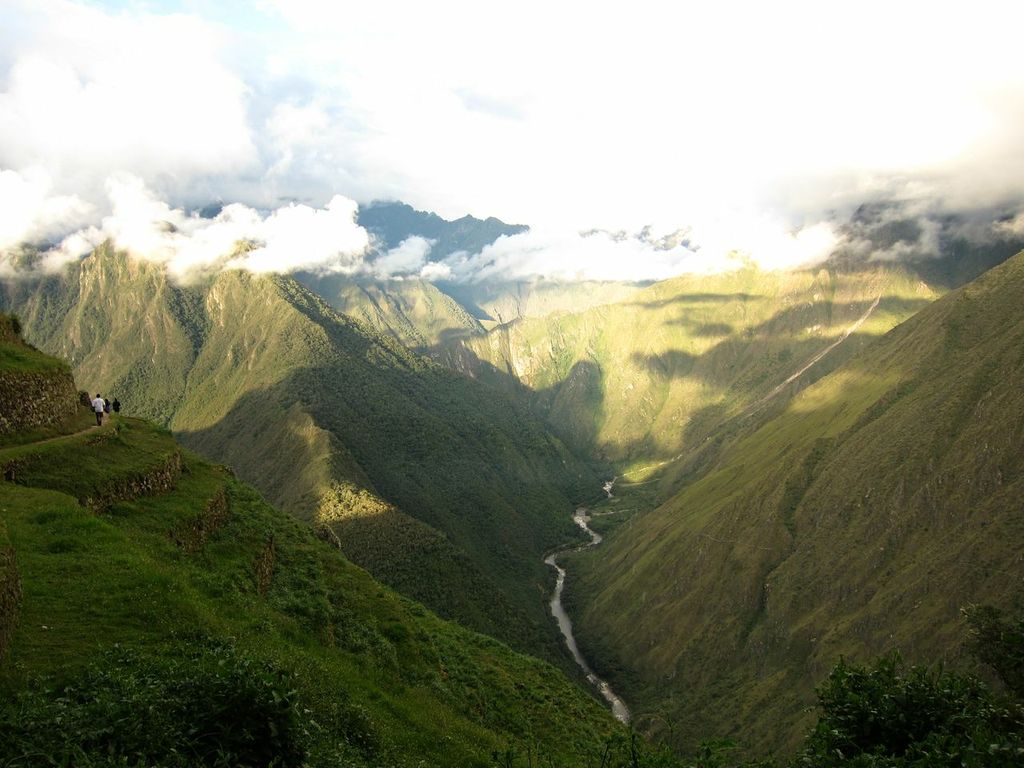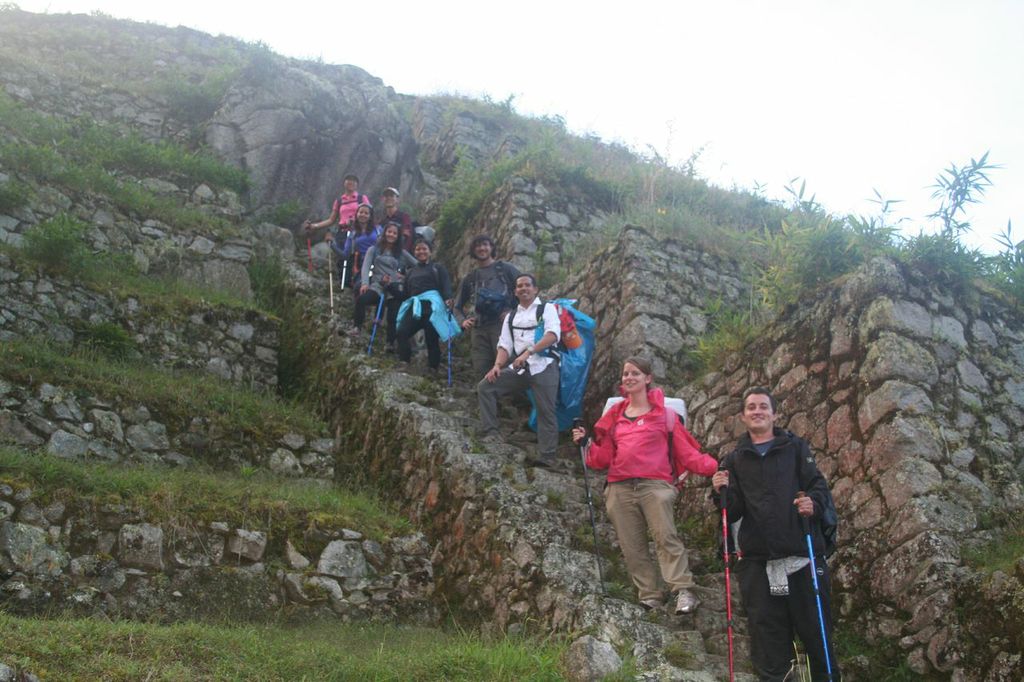 Back on the trail, K had turned around to show CL a nice purple flower, when CL suddenly shouted "Turn around! Turn around!" K was afraid to turn around because she thought there might be a spider. It turned out to be... THREE alpacas! Just walking up the trail and munching leaves along their way. One of them came up and ate the same purple flower K had just been pointing out to CL.... The alpacas were very tame and nonchalant. K petted one of them, but it's fur was quite stiff.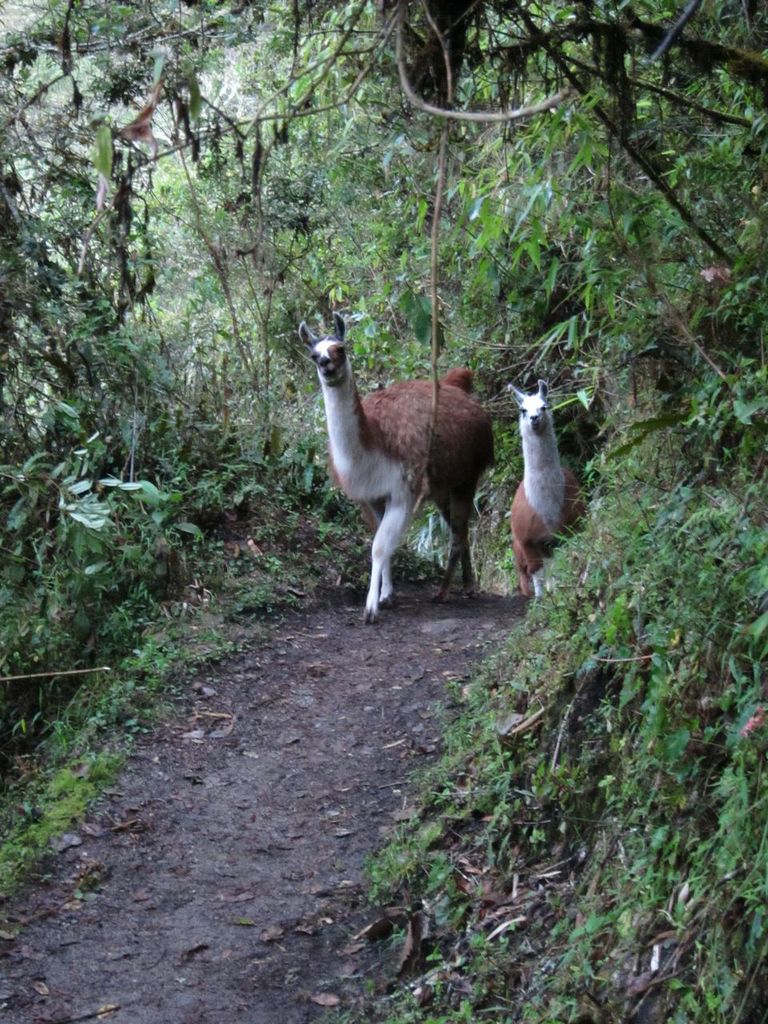 It was getting quite dark, and we just wanted to drop off our stuff. We passed by multiple camps and smelly toilets. But camp after camp was not ours. Finally, we got to our camp, and guess what? Our tent was the furthest one.
But, we made it back in time for 6 pm tea time! Again, by just a few minutes. During tea time, we had to sort out tips for the porters and come up with ideas for what to say in the thank you speech. One of the group, who knew Spanish, was to deliver the speech on everybody else's behalf. Then, we headed back to our tent to wipe down and get ready for dinner.
Dinner was asparagus soup, a salad of beets, potatoes, and carrots, fried chicken breast, white rice with bay leaves, and a beef roll with carrot inside. Since there was one person who wasn't feeling well and didn't eat dinner, the chef/porters made her tea. It was really nice of them since it wasn't expected in any way.
Then we had a special surprise, which was a spice cake with strawberry sauce. The sauce spelled out Feliz Viaje, Amigos (Bon Voyage/Have a good trip, Friends). After that, we had the tipping ceremony and the speech.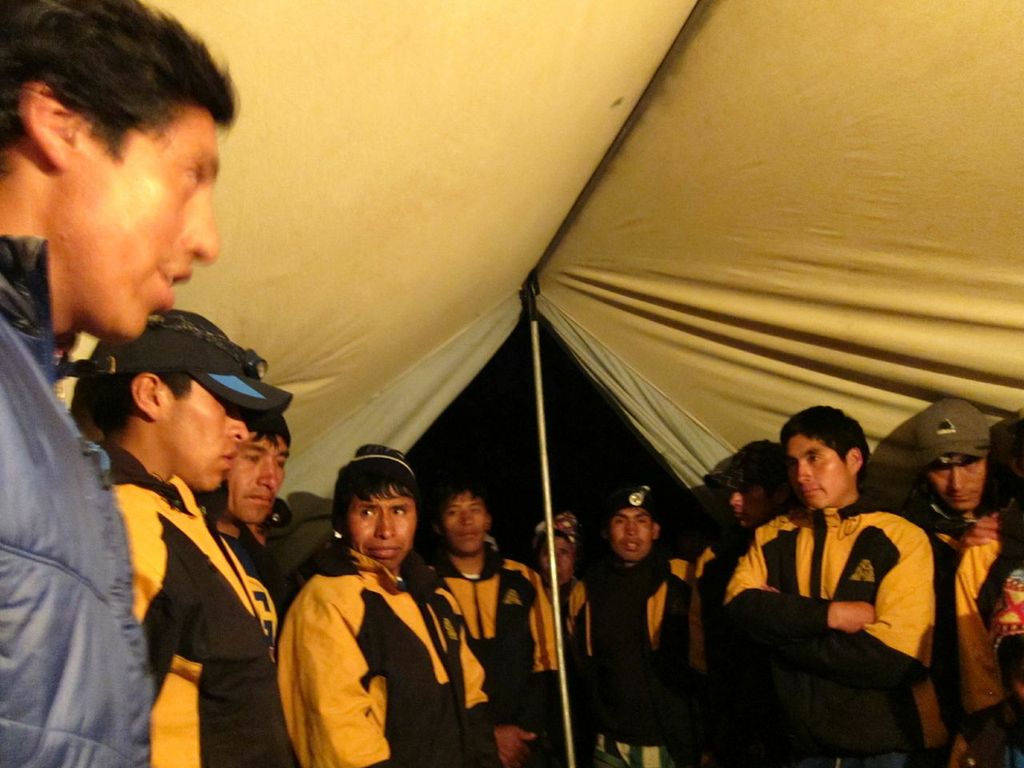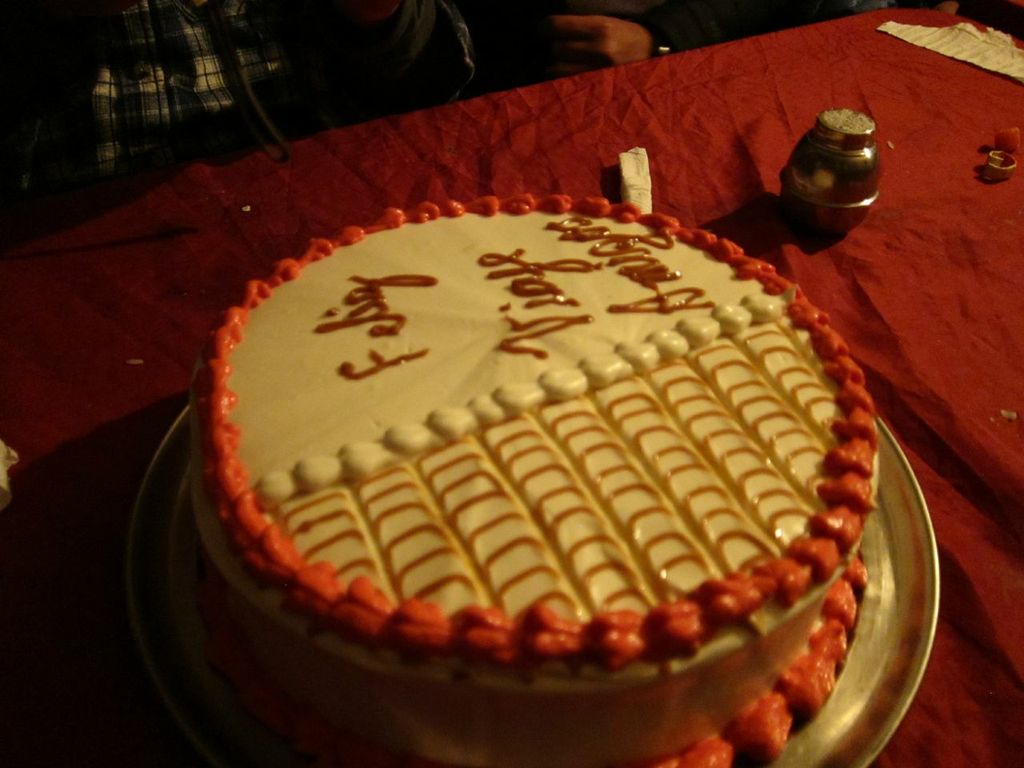 We got ready to sleep, and packed. Since we didn't need to put our sleeping bags into the duffle bag anymore (in fact, no more rolling sleeping bags because it would be the last night, and the porters would take our sleeping stuff back to Cusco while we hiked to Machu Picchu), we just put some dirty laundry in the duffle bag. That way, we could identify the porter who was carrying our duffle bag throughout the trip and tip him after we visited Machu Picchu.
Although there was very little light inside the tent (just our flashlight, and a headlight dangling from the top of the tent as a makeshift room light), CL managed to whack a mosquito on the inside of the tent with his hat. It was a little gross.
Fortunately the ground was softer on the third night, and the frogs were not as loud. But guess what? We had crickets! And people walking by a lot.